Prowein kicks off in Düsseldorf today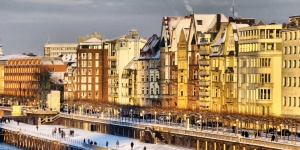 The world of wine has descended on the unassuming city of Düsseldorf for the latest instalment of Prowein, arguably now the most important wine trade fair in the world.
This year's three-day event, which started today, has signed up over 6,300 exhibitors and visitors from 60 countries and 295 winegrowing regions and is expected to attract a record number of visitors.
The show is being played out against a backdrop of heightened uncertainty and disruption in the global wine markets with the fall out from the UK's exit from EU and potential knock-on effects on tariffs and trade agreements between some of the world's biggest wine markets high on the agenda.
As is the US's increasingly protectionist trade policies under President Trump.
The trade is also having to face up to a lot less wine to buy after last year's poor harvest in many key wine producing countries.
The show also includes a full programme of tastings, masterclass and seminars with some 500 different events.
About half of the exhibitors come from France and Italy, and are represented at Prowein by all their key wine growing regions, from the Abruzzi to Veneto and from Bordeaux to the Sud-Ouest.
Other top exhibiting nations include Germany, the New World, Spain, Austria and Portugal. These are joined by new exhibitors such as the Dos Hemisferios winery from Ecuador, Pico Wines from the Azores and the Turnau winery from Poland.
Making its debut is the Asian Wine Producers' Association bringing together a number of Asian winemakers.
And already established as a strong segment, organic wine will be out in force, represented by numerous winemakers. In addition the The "Organic World" show features some 30 international exhibitors – mainly from Europe.
Some of the key themes being discussed at the show include the role of organic wines, innovations in packaging and design, new wine projects and the overall structural changes influencing the dynamics of the global wine market.
The VINEX team are at the show so if you would like to meet and discuss your plans then please contact Andrew De Zolt at andrewdz@vinex.market