London wine trade gives 2016 Bordeaux the seal of approval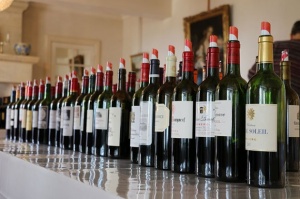 The London wine trade has given the thumbs up to the 2016 Bordeaux vintage, much to the delight of the French winemakers.
At the trade's first tasting of the 2016 en primeur last week, the consensus of opinion was that the vintage is going to be fine – and in many cases excellent.
And the reason for their delight is that many were anticipating a disastrous year, following the appalling growing conditions many producers had to endure in 2016. Heavy and persistent rain, which saw a year's worth of rain fall between January and June was then followed by extremely dry weather until September.
"We were completely lost at the end of August," Caroline Perromat of Château de Cérons told Wine-Searcher. "The grapes had stopped ripening, there was no sugar – it was like no other vintage we've known."
But then the heavens opened in mid-September, followed by two weeks of glorious late summer sun.
"The rain in September was necessary to hydrate the vines. We were a bit worried, but we have clay in Fronsac and that conserved some water in the summer. Then we had a slow, mellow harvest from 2 to 18 October," said Thierry Gauderie of Château Villars in Fronsac.
While acidity is a concern on the whites, it is generally higher on the reds, and Alain Raynaud said it is definintely a wine to keep.
"It's a classic wine with a big amount of everything – and it's perfectly ripe," adding that this ripeness was "unexpected".
And its not just the quality of the 2016 vintage hat is putting a smile on the faces of producers; the quantity, too, is pleasing.
"This is the biggest crop for Bordeaux overall since 2006 – and in terms of yields per hectare, since 2004," confirmed Gavin Quinney of Château Bauduc, in Entre-deux-Mers. "2016 is certainly a much better vintage than either of those. How lucky for Bordeaux compared to some less fortunate regions in this vintage."