English wine production to be boosted by 1m vines and 2m bottles over the next 12 months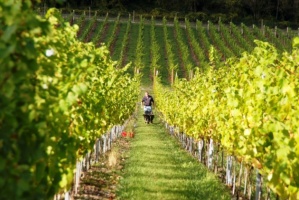 Over 1 million vines are to be planted across the UK over the next year as more wine producers see the potential in growing wine predominantly in southern England and Wales.
The extra vines should eventually allow growers to produce 2m more bottles of wine a year.
It means that over the last 10 years the number of vines planted in England and Wales has grown by 135%, according to the English Wine Producers trade body.
It is not just English producers either that see the potential with two big French champagne houses, Taittinger and Vranken-Pommery Monopole, starting projects in Kent and Hampshire.
The much anticipated wines from the Rathfinny wine estate should be on the market in 2018 as owner Mark Driver brings 400 acres of production to the table.
English wine is predicted to grow even more as global warming takes hold and makes the south of the country more suitable to grape growing. Improvments in technology is another key factor as has weather monitoring to pick the best areas to grow vines.
A new competition has now been launched to celebrate England and Wales's wine producers, with the inaugural UK Wine awards organised by the UK Vineyard Association and English Wine Producers.
Wines from English and Welsh producers will be tasted blind by the judges over two days, with the results announced on May 31.
Rebecca Hull, the English wine buyer at Waitrose and one of the judges, said: "These wines are world class and the awards will serve to highlight some of the gems produced on our own doorstep," she said.