Use of herbicide and pesticide in New Zealand wine production on the way out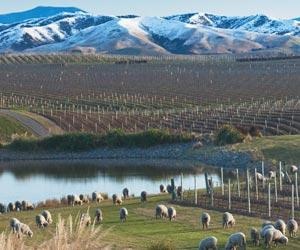 The use of herbicides and pesticides in grape production could soon be a thing of the past, according to Villa Maria Estate's viticulturist, Jonathan Hamlet.
"The way we grow grapes today will not be acceptable in the future. We need to respect the land, learn to adapt, and stop using pesticides and herbicides," he told delegates at the recent International Sauvignon Blanc Celebration in Marlborough, New Zealand.
"We live in a world of conscious, value driven consumers who want products that reflect their values. We need to listen to them as they hold the power."
Hamlet emphasised the need for winemakers in New Zealand to look after their land. "We need to focus on value not volume," he continued, according to a report in Drinks Business. "New Zealand Sauvignon Blanc is unique and special and has put us in an enviable position in the world market but we can't stand still, we have to be proactive in making changes.
He added that Marlborough is entering a long period of redevelopment and it is essential that the industry plans accordingly for the future.
"We're far more advanced and confident now and are incorporating organic practices more successfully. Organics is profoundly simple - it's growing without synthetic products. It can be expensive initially but is worth it in the long run," he said.
He also discussed the importance of coming up with an effective alternative to the use of copper in dealing with downy mildew.
There are currently 1,715 hectares of certified organic vineyards in New Zealand, which make up 4.5% of total vineyard area. Central Otago is the biggest organic producer, with 16% of vineyards in the region certified organic. New Zealand exports NZ$46m of organic wine a year, while the global market for organic produce is growing by 10% per year.