Tasmania's vineyard area jumps by a quarter as new producers pile into island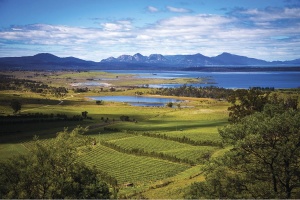 Tasmania's vineyard area has increased by a quarter in the past two years, with further plans for an additional 15% increase in the offing, as an increasing number of producers are muscling into the island.
The influx of newcomers investing in Tasmania's wine industry, which has seen the likes of producers such as Shaw + Smith and Brown Brothers amongst others snapping up vineyards or making wine from island-grown grapes, is resulting in greater recognition for its cooler climate grapes as volumes increase, according to Sheralee Davies, CEO of Wine Tasmania.
Tasmania currently accounts for less than 1% of Australia's total crush and only exports 5% of the of its annual 885,000 9 litre case production. However, its sparkling wines and Pinot Noir are fast gaining international recognition, while the cooler climate enables Australian producers to future proof against climate change.
And new plantings from the Hill Smith family (of Yalumba in Barossa), are set to increase the total vineyard area (currently 2,000 ha) by 10% alone over the next couple of years.
Meanwhile, home-grown Tasmanian producers, such as Stoney Rise Wine Co, are current doubling their vineyard holdings as new vines are planted.
"New investment is coming in, people are seeing viticulture here as a long term opportunity, and we are taking a market-led approach to growth," Lou Holyman, winemaker at Stoney Rise told Harpers.
To date, all funds ploughed into the Tasmanian wine sector have come from domestic investors, but Holyman said it is only a matter of time before overseas investors will start taking note of the island's vibrant viticultural scene and start investing.
"I think global investment will come as existing wine businesses continue to invest, long term, to be part of a new frontier, and to help protect against future climate change," he said.
Another big attraction for newcomers is the price premium that Tasmanian wine attracts. While 100% of Tasmanian wines sell above AU$15, only 7% of mainland Australian wines do so, and with an average retail bottle price of AU$22.44, the attraction is obvious.
Whether the recent growth is sustainable remains to be seen, but Holyman said that Tasmnia is experiencing increased demand for its wines. "Demand is in excess of supply, these are exciting times and Tasmania has really started to expand," said Holyman.