Australia's 2016 vintage reaches highest production levels in a decade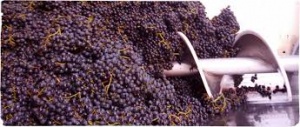 Australia's 2016 vintage saw its highest production in nearly ten years, with both red and white volumes up.
The total grape grush came to 1.81m tonnes, a 6% increase on the previous year, which amounted to 1.3bn litres of wine, 10% up on the 2015 vintage. The red grape crush was the driving force, up by 9% to 935,000, while the white grape crush was up by 3% to 872,000 tonnes.
This is 100,000 tonnes greater than the five year average of 1.7 million tonnes, with the increase largely coming from the cool and temperate regions of the country, while the crush from warmer inland regions dropping by 0.6% to around 7,000 tonnes.
The biggest increases in volume came from Langhorne Creek, which saw production soar by 57%, Mornington Peninusla (up 53%) and McLaren Vale (up 47%). Meanwhile, the Yarra Valley was down by 20% and the Hunter Valley by 46%.
The domestic and export markets are both in growth, with an additional 15 million litres of Australian wine being sold in 2015 – 2016, compared with the previous year, adding value of $408m, according to the latest Wine Australia annual production report.
Total Australian wine sales amounted to $5.1bn during the year, with exports accounting for 61% of the volume (728m litres), and domestic sales for the remaining 39% (468m litres) . In value terms, exports were worth $2.1bn, up by 11.4%, while domestic sales were also up by 6.9% and valued at $2.97bn.
Relatively strong sales for reds reflected higher production levels, while increased sales were driven by the premiumisation trend in both the domestic market and strong demand from Asian markets for premium wines.
The biggest growths in exports came from those wines in the $30 - $49.99 category, where sales jumped by 78% year on year. Exports in the $100 – 199.99 category also performed strongly, enjoying a 30% leap in sales. The only price bracket to see exports drop were those in the $7.50 – 9.99 price bracket, which dipped by 0.5% to $142,266154, while exports of wines priced below $2.50 only managed to grow by a barely discernible 0.2% to $434,592,613. The most valuable category of exports was those wines priced between $2.50 – 4.99, at $786,733,137, which enjoyed a modest 3% growth last year.
Inventory increased by 115 million litres, with a greater increase in white wines, with Inventory-to-sales ratios at the end of 2015–16 above long-term averages for red and white wine but well below 2005–06 level of nearly 2 billion litres.
"On a cautionary note, inventory levels have been creeping higher over the last five years," said Wine Australia. "Despite declining vineyard area, the 2016 crush was the highest since 2006. Higher inventory levels can be a mixed blessing as they allow for more sales but also require careful management to maintain pricing momentum. A return to average yields in 2017 would reduce the inventory-to-sales ratio."
The long-term trend for production, sales and inventory is positive, noted the report, with continuing sales growth expected especially in export markets, and production unlikely to increase due to a stable national vineyard base