Organic wine growth outstripping rest of market in France and UK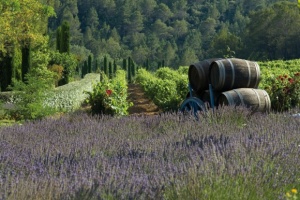 Organic wine sales are on the rise, and far oustripping the non-organic market, with an increasing number of vineyards in Europe switching to sustainable practices.
French organic wine sales are now in excess of 1.2 billion euros, a figure which has tripled in the past seven years, according to figures presented at the organic wine fair Millésime Bio last month.
Europe is the world's biggest producer of organic wines by far, accounting for 90% of total global organic vineyards, and three quarters of this is concentrated in just three countries – Spain, Italy and France, with Spain emerging as the biggest producer with 106,719 ha of organically cultivated vineyards.
Although the 333,000 ha of organic vineyeards around the world only represents 4.7% of the world's total wine growing surface area, that is rising fast, boosted by an increasing interest in healthier eating and lifestyles.
Growth of the market was hampered by the recession, but now it is starting to burgeon again, with 467 new organic wine producers registered in France in 2017, compared to 343 in 2016, 227 in 2015 and only 170 in 2014.
The biggest group of organic producers in France are based in the Occitainie, which claims around 35% of the country's organic wine growing land. Combined with the Rhone, Bordeaux and Provence, it makes up three quarters of all French organic production.
Cellier de Dauphins is the largest organic producer in the Rhône with 12,500 ha, and has witnessed a resurgence in interest in the sector. Its sales have jumped by nearly a quarter (23%), last year, (IRI), ahead of the overall organic off-trade sector, which rose by 13.4% between 2015 and 2016 (Vinisud).
Meanwhile in the UK, sales of organic wine rose by 22% in value in the year to December 31, compared with less than 3% growth in non-organic for the same period (Nielsen Scantrack).
"In France and northern Europe, organic wine is very important, but for the UK, sensitivity is just starting now," James Fuselier, marketing director at Cellier des Dauphins told Harpers. The company has yet to launch its organic wines in the UK.
Fuselier added that drinking trends across Europe are the same, but at varying degrees of progression. In addition, consumers are becoming more similar, with the buying habits of those aged under 40 more closely aligned across Europe than the over 50's.
And it is the younger generation of drinkers who are the driving force of the organic sector in both food and drink,w ith 21-35 year olds more concerned about responsible practices in general, and more likely to purchase organic wines that older consumers, according to research by SoWine at Vinisud. .