Market not yet ready for premium canned wine, though format gaining in popularity amongst millennials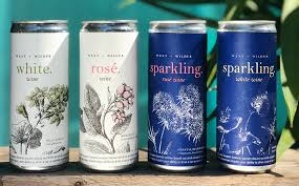 Negative perceptions by older consumers and continued resistance in more traditional markets are holding back the growth of wine in cans, according to research by the IWSR.
At the same time, sales of wine in aluminium cans have fared so well that the supply has become strained in some markets, leading to shortages. Thanks to its convenience and environmental credentials, it is an increasingly popular format amongst younger consumers, and in some markets, notably the US, the UK and Austrlalia, the IWSR said that the format is moving towards gaining widespread consumer acceptance, similar to the position of screwtop bottles 20 years ago.
However, despite a number of positive factors including easy storage and transport within the supply chain, and ease of portability by consumers, wine in cans still faces barriers including a perception amongst older consumers that the quality of the wine is dubious, along with continued resistance in some of the more traditional wine markets.
But according to IWSR research director and head of wine Daniel Mettyear, a new breed of quality-focused canned wines is helping to demolish those negative preconceptions. "Newer, younger consumers are more willing to try out wine in cans and get involved with the category," he said.
Meanwhile, wine producers are realising that wine in cans is a good way of attracting younger consumers to the category. "This is because they enable safe exploration (a lower cost commitment compared to buying a bottle to trying new and different wines), moderation, convenience, on the go, more casual consumption and of course because they have a lower environmental impact than glass," said Sandy Mayo, chief marketing officer at Accolade Wines.
While cans have the potential to "democratise" wine, according to Kenny Rochford, co founder of US canned wine business West + Wilder, he still encounters resistance – and not just from consumers, but also the industry. "Just the other day we had a trade buyer comment on cans tasting of aluminium – which is a psychological experience rather than a physical one – but it goes to show how changing perceptions about new things requires patience," he said.
Sans Wine Co founder Jake Stover thinks that even in the US where acceptance of wine in cans is higher than most, that the market is still just at 'base camp'. "We are at a higher level of consumer undrstanding than when we started around five years ago at 'sea level'. However, there is a ton of room for experimentation and customer feedback and it feels as though the wine consumer is still acclimatising to the idea."
This is even more the case outside the US. According to Liz Cobbold, marketing director at UK-based Broadland Drinks , the US is at least a couple of years ahead of the UK, but she is bullish about future prospects for the format, with Broadlands launching several new canned products in 2021. However, she is doubtful that the UK market is ready for premium wine in cans yet, and thinks that the format will be confined to mainstream.
Accolade also has plans for various new canned wine product launches in the pipeline but agrees that certainly for now, price is crucial. "We are not yet seeing a role for really premium wine in cans," said Mayo. "This may come in the future as more consumers and brands embrace the format."
In other, more traditional markets however, which still shun screwcaps despite being widely embraced elsewhere, it will be a lot longer before they accept the canned wine format, according to the IWSR.
"In markets like Spain screwcap wines are still not accepted by the public or by the trade, whereas markets like the US went through that process a long time ago," said Mettyear. "Spain is a perfect example of where screwcap wines still have that stigma attached.
"The US is definitely leading the charge in terms of canned wine, with the UK and Australia also showing positive signs, and the market starting to pick up in South Africa. But I think it's going to be a long time before this reaches markets like Spain – or is successful there."