New Zealand clamping down on migrant seasonal workers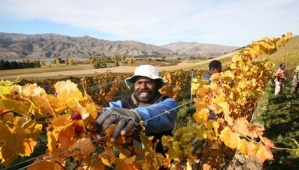 The New Zealand government has revealed plans to make it more difficult to access skilled work visas, in an attempt to help Kiwis get jobs in favour of immigrants.
Employees in seasonal work such as grape picking would also have their visas shorted to the length of time they were needed in the country. The new measures are aimed at controlling record levels of immigration to New Zealand, amid increased concern about road congestion, housing shortages and the strain on public services in Auckland and other major cities.
Last year more than 70,000 people migrated to New Zealand according to Statistics New Zealand, the majority of them settling in Auckland, now home to almost 1.5 million people.
These changes came just a day after Australia announced a similar scheme, giving priority to Australian workers by replaced the skilled 457 visa. Prime minister Malcolm Turnbull said: "Australians must have priority for Australian jobs, so we're abolishing the [class] 457 visas, the visas that bring temporary foreign workers into the country."
New Zealand's immigration minister Michael Woodhouse echoed his Australian counterpart and said: "The government has a Kiwis-first approach to Immigration. It's important that our immigration settings are attracting the right people, with the right skills, to help fill genuine skill shortages and contribute to our growing economy."
The majority of migrants to New Zealand come from the UK, China, India, South Africa and the Phillipines.