Divico could be key varietal to boost UK red wine production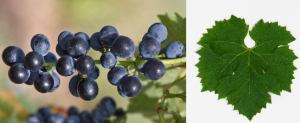 The Divico grape could hold the key to the UK's future red wine production according to viticultural scientists.
The research winery NIAB EMR in Kent in south-east of England has been trialling the varietal at its vineyard for the past three years, and has high hopes that the Swiss-developed grape could be the "much sought after game-changer" for red wine production, despite the challenges of the UK climate.
"Red wine accounts for only 5% of the UK's current production, but we believe Divico now offers strong commercial prospects by producing quality red wines," head of viticulture and wine R&D, NIAB EMR told Harpers. "The yield is great and, crucially, the variety has three key growth attributes which mark it out from all others."
Flowering in early June which means it avoids frosts, Divico is naturally resistant to many diseases to afflict grape crops, which is vital in the UK's mild, humid environment where fungal disease is always a risk.
"The wine quality is outstanding as Divico's precocity and its natural resistance to fungal diseases allows a long ripening, resulting in an optimal aromatic and phenolic quality," said Lecourt, adding that Divico is likely to overtake Pinot Noir as the UK season often doesn't permit full maturation of the fruit, which as a result hampers the quality of the wine produced.
Lecourt conceded as much, saying: "While our UK-produced Pinot Noir wines have improved, they do struggle to compete against our European and New World winemakers in terms of consistency."
Divico was bred at the Swiss Centre of Excellence for Agricultural Research (Agroscope) in the late 1990s and first released for planting six years ago. The 2019 harvest will be the first vintage at the recently completed research winery at NIAB EMR, which was funded by East Malling Trust - a charity backing horticultural research in the UK.