Why EU wine producers need to wake up fast to perils of new UK trade rules post Brexit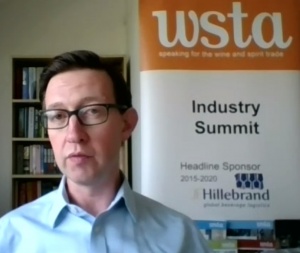 Why EU wine producers need to wake up fast to perils of new UK trade rules post Brexit
By Richard Siddle
If you export wines to the UK then you might want to look away now. Particularly if you are in the European Union.
We are now just 15 weeks until the UK's long drawn out divorce from the EU finally comes into place. Not that you would know it when it comes to working out exactly how the new trading deals are going to work and what is going to be involved selling and exporting wine to the UK.
In fact the British government seems more intent on arguing with its own parliament over the intricacies of a Brexit bill it has already agreed with the EU, than actually get on sorting out a trade deal between the two sides.
Quite how bad the situation is behind the scenes was spelt out in no uncertain terms by Miles Beale, chief executive of the UK's Wine & Spirit Trade Association, in a speech as part of its annual summit held online this week.
He did not hold back in his criticism, bordering on contempt, for a government, that appears to be hell bent on going out of its way to introduce new trading rules when it comes to importing wine that will actually make the situation far worse than it is now.
Seismic shift
We're on the edge, he says, of a "seismic shift" in the way we trade with the EU, but there is still no clear "path" as to how it that is going to be done. All of which, he adds, is frankly "not good enough".
In fact what we do know only throws the wine industry under the bus. Currently the UK government is intent on introducing what are known as VI-1 forms, that any wine producer selling wine to the UK will have to fill in for every consignment of wine and carry out a laboratory test, costing £100s each, before being given the go ahead to complete the transaction.
The WSTA estimates the new forms will add at least 10p to the price of a single bottle of wine, cost the UK wine industry at least £700m to comply with, result in an extra 500,000 forms to be processed, and mean smaller wine producers that rely on dealing direct with independent merchants and importers in the UK will be priced out of working in the UK.
What's even more staggering is that there is currently no system in place to actually handle and process the VI-1 forms. As Beale explains: "We have yet to see the latest version of the detail set out in the Border Operating Model. This beggars belief. This close to 1 January we should be testing the new regime now, not waiting on the detail."
Despite constant appeals to be able to explain to government ministers the folly of their new scheme not one has had the "decency" to meet face to face. It's just "not good enough," claims Beale.
He adds: "We are still waiting on details of how goods are going to move between GB and Northern Ireland. This isn't good enough and shows a woeful lack of understanding of the time businesses need to introduce new systems or revise labels."
There are hopes an All Party Parliamentary report into the viability - or not - of VI-1 forms, will increase the political pressure on the government to see sense, but this is not a government that changes its minds on nuances of trading policy too easily.
Wake up call to producers
All of which means producers across Europe need to wake up fast to the consequences that lie ahead. Some, like Romania's Cramele Recas, have been shouting loud and hard for some months about the dangers of Vi-1 forms and what it could mean for European wine producers.
But look at what is being said and done by wine trade bodies and generics across the EU and it is clear many wine producers are sleep walking into disaster come January 1.
That's if you will be able to even get your wines into the UK if there is no Brexit deal and the expected lorry parks fill up, creating days and weeks of delays at the major UK ports. Beale says all the major logistics and haulier organisations in the UK are warning of major disruption come January 1 and urges buyers and producers alike to make sure they have enough stock in the UK well before the end of the year.
The irony of the whole situation is that none of this needs to happen. The proposed VI-1 forms have been dreamt up by the UK government alone and it is completely in its power to remove them.
It agrees that some sort of mutual recognition system is needed for future trading relations but until a credible, efficient electronic system can be set up then the WSTA urges the government to at least suspend the introduction of VI-1 forms.
If it doesn't then fine wine merchants could be in a situation whereby they need to open up a parcel of Petrus and have to waste a bottle by carrying out a laboratory test to prove it is one of the world's most expensive and coveted fine wines.
That's the madness that lies ahead in less than four months.