Trial vineyard in south of France experiments with foreign drought-resistant varieties to contend with climate change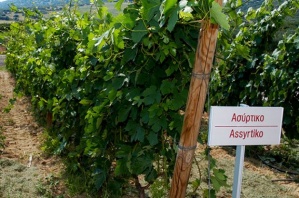 Wine producers in the south of France are experimenting with a number of foreign grape varieties in an attempt to better contend with climate change.
According to the Garde Chamber of Agriculture, 32 varieties were recently planted in a trial vineyard just south of Nîmes, including Fiano and Neogroamoro from southern Italy, Assyrtiko from Greece and various Georgian varieties. This is part of an ongoing experimental programme trialling drought resistance and innovation in the region.
Eventually the vineyard will cultivate 64 different varieties, with the aim of encouraging local viticulturists to visit and possibly include the varieties in their vineyards. None of the varieties planted in the trial are currently permitted under the regional IGP Gard title.
"The reduction in available plant treatments and adaptation to climate change are the two major challenges our grapegrowers face," said the agricutlure body last week. In 2019, nearly a third (30%) of production was lost due to drought, while 2020 was the hottest since records began, and . drought records are already being broken this year.